Avira AntiVir Premium 2012 Removal Tips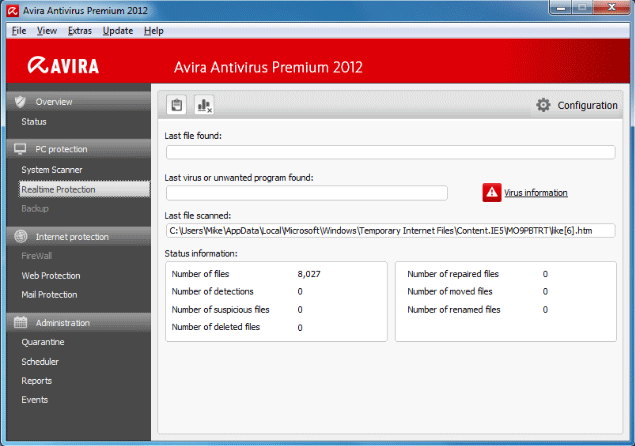 I believe there are many a people want to uninstall Avira AntiVir Premium 2012 and need to install other security software to replace it. However, most of the users feel it is very complicate to uninstall Avira AntiVir Premium 2012. I dare to say that you are the one of them who have no idea about how to remove this program. All right, just take it easy and you can follow the instructions in this post. Avira AntiVir Premium 2012 is a famous security program that published by Avira Corporation from Germany, which has got a high reputation in the effective computer protection, virus detection and removal. For any specific reseaon, you will need to uninstall it from your computer. For instance, if your license of Avira AntiVir Premium 2012 has been expired or you find other anti-virus program which is better than the former one. In such situation, you have to remove the Avira AntiVir Premium 2012 from your computer at first.

To uninstall Avira AntiVir Premium 2012, you can use some of the methods as below:
First method: use the Add/Remove programs ( Windows attached uninstall process)
1. Close the Avira AntiVir Premium 2012 on your computer. You can go to the task manager and terminate the program.
2. Click on Start > Control Panel > Add/Remove programs.
3. Find and locate on the Avira AntiVir Premium 2012 on its program list.
4. Click on the remove icon at the bottom.
5. Follow the tutorials to finish the removal, and then restart your computer.
I think you have already used this method to uninstall Avira AntiVir Premium 2012 before.However there are many of the related files especially registry files still exist on the computer and not be cleaned out. What should we do about these remnants? It must be the manual removal. But there is an important and sensitive thing that we should pay attention, which is the registry removal. As many registry files are the indispensable components of the operation of Windows system, you should be very careful and avoid to make any removing error for these important files on the Registry Editor, otherwise, such many serious problems as system crash, Blue Screen of Death and the system freeze will be triggered on the PC.

Of course, if you insist on removing the reigstry entries and associated files please remove the items as below:
Avira, a file folder, left in C:\Documents and Settings\All Users\Application Data, 76.6 KB (78,440 bytes), contains 1 Files (firstlsp.reg, DAT File, Unknown application)
AVIRA_ANTIVIRUS_PREMIUM_EN.EX-12A8413C.pf, PF File, C:\WINDOWS\Prefetch, 63.4 KB (64,972 bytes)
avconfig.cpl – C:\PROGRA~1\Avira\ANTIVI~1\avconfig.cpl, located in HKEY_CURRENT_USER\Control Panel\MMCPL
000 – Avira, located in HKEY_CURRENT_USER\Software\Microsoft\Search Assistant\ACMru\5603
Avira (a sub-brand, file folder type) and Order – 41 00 76 00 69 00 72 00 A.v.i.r.and more, located in HKEY_CURRENT_USER\Software\Microsoft\Windows\CurrentVersion\Explorer\MenuOrder\Start Menu\Programs\Avira
If you are not a PC expert, please make a backup for the Windows registry keys in order to avoid any system problems after the deleting of the registry keys.
Extra Tips: How to backup Windows registry keys?
1. Click Start, and then click Run.
2. In the Open box, type regedit.exe, and then click OK
3. Locate and then click the key that contains the value that you want to edit
4. Right-click on the key and choose Export.
5. In the Save in box, select a location where you want to save the Registration Entries (.reg)
6. In the File name box, type a file name, and then click Save.
Now that you've created a Registry backup for that particular key. Save the REG file in a safer location in case you want to undo the registry changes made. You can restore the settings by just double-clicking the REG file. It automatically merges the contents to the Registry.

You also can uninstall Avira AntiVir Premium 2012 with Uninstall Tool
Max Uninstaller is able to help you uninstall the Avira AntiVir Premium 2012 and other Windows programs that you don't need any more. Max Uninstaller will undoubtedly be the the best answer, because it can replace you to handle all of these troubles and inconveniences during the uninstall process, including scanning all of related components on the computer, and remove them automatically and completely within a few minutes.
Step 1. Install Max Uninstaller on your PC, and scan your whole computer system with its system scan feature.
Step 2. Select Avira AntiVir Premium 2012 on the interface, click "Run Analysis", and "Yes"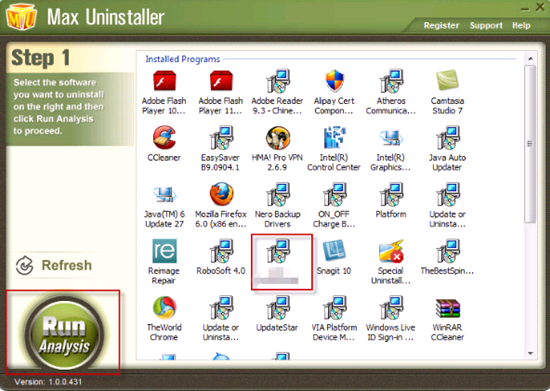 Step3: Max Uninstaller will review uninstall program files and associated registry entries. Click "Complete Uninstall" to start the program uninstall process. Click "Yes" to start uninstalling Avira AntiVir Premium 2012.
Step 4: Wait for the standard Avira AntiVir Premium 2012 uninstall completed. Click "Scan Leftovers", and Max Uninstaller will conduct a full scan on your computer for a while.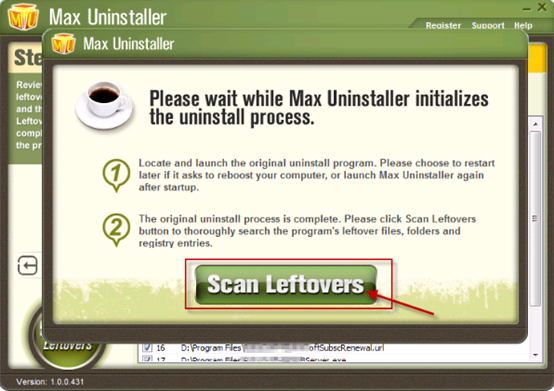 Step5: When it finish scanning, click "Delete Leftovers" and "Yes" button to thoroughly uninstall Avira AntiVir Premium 2012 and its leftovers.
Step6: Max Uninstaller has now fully uninstalled Avira AntiVir Premium 2012 related files and extensions. Click "OK" to finish.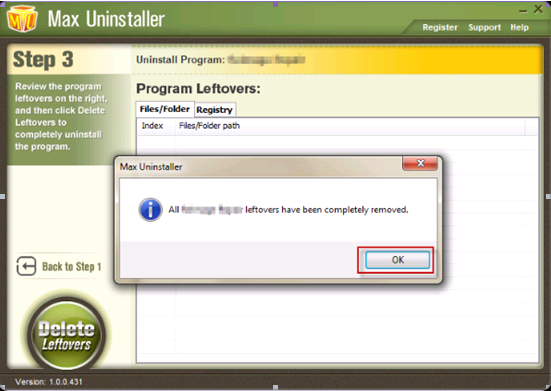 See? It is very easy to uninstall Avira AntiVir Premium 2012 with Max Uninstaller. If you still have no idea to remove the program, why don't you try this uninstall tool to help accomplish the removal? Max Uninstaller would be your best choice to remove any Windows programs.